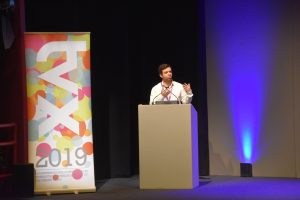 Congratulations to Guilherme Carneiro, Miguel Nacenta, Alice Toniolo, Gonzalo Méndez and Aaron Quigley who won the Best Student Paper award for their paper "Deb8: A Tool for Collaborative Analysis of Video at TVX 2019.
Deb8 is a tool that allows collaborative analysis of video-based TV debates. The tool provides a novel UI designed to enable and capture rich synchronous collaborative discussion of videos based on argumentation graphs that link quotes of the video, opinions, questions, and external evidence.
The ACM International Conference on Interactive Experiences for TV and Online Video (TVX) is the leading international conference for presentation and discussion of research into online video and TV interaction and user experience. This year, the conference took place in Manchester from 5th to 7th of June and in the image above you can see Guilherme Carneiro presenting.