Event details
When: Tuesday 15 Octuber, 3-4pm
Where: School VI, United Colleges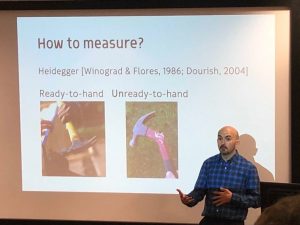 Title: "Maps, Space and the 2D Plane from the Data and User Interface Perspective"
Abstract: The 2D plane underpins most displays of information and therefore most of the ways in which interface designers and data analysts can dynamically represent information. As a user interface and information visualization designer/researcher I encounter the 2D plane often as a necessity and sometimes as an opportunity to enhance human cognitive processes.
Maps, who are the original example of use of the 2D plane to represent information serve often as inspiration.In this talk, I will discuss some of my most exciting encounters with the 2D plane and maps, and reflect on their deeper affordances to support thinking and understanding. I hope also to engage in conversation with you in the audience about what maps and the 2D plane mean for you and how you use them.
In keeping with tradition, please, RSVP to Dr
Urska Demsar
, Senior Lecturer in Geoinformatics, School of Geography & Sustainable Development, by Thursday 10 October.
Event details
When: 15th October 2019 15:00 - 16:00
Where: Various