Gonzalo Gabriel Mendez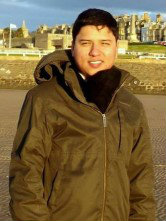 Gonzalo is an ecuadorian Ph.D. student in Computer Science at the University of St Andrews. He holds a Master Degree in Computer Science from the Free University of Brussels, where he specialized in Multimedia Systems. Previously, he did research on Education and Learning Technologies at the Information Technology Centre from the Escuela Superior Politecnica del Litoral (ESPOL), in Guayaquil, Ecuador, where he also completed his Computer Engineering degree.
Gonzalo current's research is supervised by Dr. Miguel Nacenta. At the SACHI lab, he is mainly focused on the design, developing and evaluation of supporting tools for reasoning on visual information.
Gonzalo's additional research interests include Human Computer Interaction, Information Visualisation, Visual Thinking, and Teaching and Learning technologies.