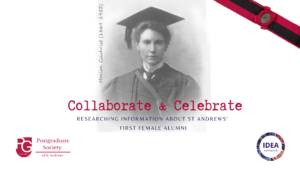 Students were invited to collaborate on researching digitised archival information about St Andrew's first female alumni and thus expand the limited amount of information we have about these front-running women.
Description:
The Postgraduate Development Officer collaborated with Tomas Vancisin, a SACHI Group researcher focusing on visualising historical university records, and the Inclusion Diversity Equity Accessibility (IDEA) network to host a pilot event to raise awareness about the University's first female students.
The University of St Andrews is over 600 years old, but women have only been allowed to study here for the past 145 years. In 1877, 15 years before women were officially allowed to study at universities around Scotland, St Andrews started offering women the Lady Literate in Arts qualification, which was equivalent to an MA degree. Despite the significance of this qualification for gender equality and beyond, the amount of information we have about these pioneering women is sparse. The event aimed to spark a discussion and encourage attendees to become "knowledge activists" by looking for additional information about these women. In addition to filling information gaps about underrepresented women, the session also showcased opportunities to develop skills in digital media, research, public engagement, and team collaboration. 
The long-term goal is to run Wikipedia training as a means to encourage writing Wikipedia Biographical articles about LLA's we identify as notable.
Here is what one of the attendees said about their experience: 
"I really enjoyed searching for information about the LLA graduates. It was exciting to try and uncover what information is out there, and it was good fun. I also enjoyed hearing more about the IDEA network, and I am keen to get involved as a 'knowledge activist."
More information: