The Tiree Tech Wave (TTW), is run twice a year, and is billed as 'a hands-on making and meeting event '. This Spring, thanks to SICSA funding, SACHI member Anne- Marie Mann was given the privilege of attending.

The Tiree Tech Wave (TTW), organised by Alan Dix and Graham Dean, those who participate are lured by the promise of time to step out, to experiment, play, make things with others and discuss what brings us all together – our new digital maker culture.
The first challenge to all participants of the Tech Wave is getting to Tiree, a small island off the west coast of Scotland. The short flight from Glasgow challenges even the most intrepid participants and appears to be a rite of passage. For the duration of the stay Tech Wavers ask 'Did you come in the tiny plane?' a feat of pure courage that bonds us all to Tiree and its inhabitants.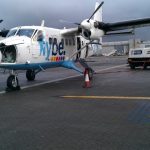 Safe and sound on the island, it's straight down to business. The Tiree Rural Centre becomes home to the 30+ participants of TTW5. This year, saw an eclectic mix of people from across the country enjoying the island and the projects they worked on. This was an exciting opportunity to meet a wide range of people and develop projects and ideas with them.
Whilst everyone was busy working away, I had the pleasure to work on a project with Ruth Aylett, from Heriot Watt University and Steve Forshaw, from HighWire at Lancaster University . The project was based on an art installation by Gordon Pask called Colloquy of Mobiles that had intrigued Ruth. The original artwork, deemed a form of Cybernetic Serendipity was a reactive, computer-based system composed of five large mobiles. Our task was to honour the artwork using only what we could scrounge from the electronic artefacts in front of us. The resultant piece, which we loosely named Cybernetic Fecundity, was run by 3 arduinos, a 'male', a 'female' and a constant , which represented time and rhythm. Completing the work took time, patience and a lot of 'iterative design'. For me, it provided a demonstration of design – from conception to realisation, and it's achievement drew on everyone's strength and experience and was an excellent learning opportunity.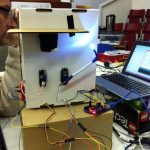 A video of the project in action can be viewed here.
Other projects such as those brought by Cardiff School of Art and Design, included various wearable technologies, building a 3D printer, and a ceramic representation of its artist with an embedded RFID tag. The University of Lancaster consisted of two contingents of people, those from HighWire  and a group from the Catalyst project, working on an app to help raise Autism awareness. Another project worth mentioning was conducted by Alessio Malizia and Alan Chamberlain, who both worked hard to implement a gesture aware table top in the Tiree Rural Centre, using a Kinect and a projecter.
Whilst busy by day, the evenings were a more social affair. The events organised included a meal at the Scarinish hotel, the launch of the Tiree mobile heritage app, and a meal hosted by Marie-Angela, Tim, Will and Sam from Catalyst.
The true success of TTW5 was the fellowship and ingenuity of the participants. The Tech Wave allows a chance for creativity and networking in a relaxed, informal atmosphere that fosters strong bonds between those taken part. On that note I would like to thank everyone involved with my Tiree Tech Wave experience and it is fair to say that I hope to see them all again.