On February 1st, Professor Quigley delivered an invited talk as part of the
ACM Distinguished Speaker
Program during the HCI@KAIST International Workshop in KAIST, Daejeon, South Korea.
His talk on Discreet Computingn noted that somputing and interaction are changing the nature of humanity. As individuals our capabilities can be extended, our memories augmented and our senses attuned. Societies are being reshaped by our ability to interconnect and harness the abilities of millions. Interaction is all around us and this talk offers a new vision of computing called Discreet Computing.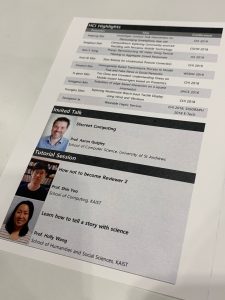 Discreet Computing is intentionally unobtrusive through its design, development and use. Aspects of wearable, invisible, ambient and ubiquitous computing are key as discreet computing is woven into the literal or figurative fabric of day to day life. This talk provides a view of eight dimensions of discreet computing along with real research examples.