The SICSA HCI theme has an annual all hands meeting and in 2019, the St Andrews Computer Human Interaction research group (SACHI) is organising and hosting this event in St Andrews today.
This year we took the opportunity to create a unique event where we invited all the subcommittee chairs of the ACM Conference on Human Factors in Computing Systems (CHI) to join us and present an introduction to their research. Today twenty of these chairs will join nearly 100 HCI researchers from across Scotland. We will have presentations from our visitors from around the world and from across SICSA.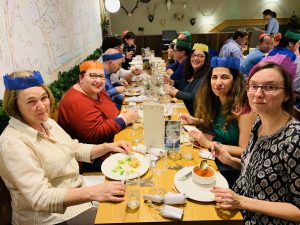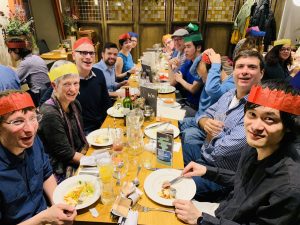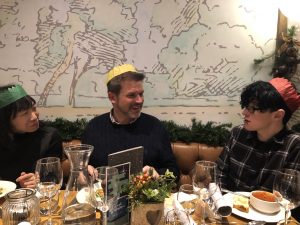 Our visitors are enjoying a two day program of events with pre-dinner drinks and a welcome dinner last night in St Andrews. This morning a local historian will be taking them on a historic walking tour before the days program of talks begins in the School of Computer Science. Later we have arranged a shuttle to take our international visitors to Glasgow where they will begin their hard work as sub-committee chairs for the 2019 CHI conference.

Our thanks to the general chairs for CHI 2019 for allowing us to build our event around this unique opportunity.

Our international visitors include, Amy Ogan, Anastasia Bezerianos, Daniel Ashbrook, Daniel Vogel, Geraldine Fitzpatrick , Julie R Williamson, Karon MacLean, Katie Siek , Koji Yatani, Luigina Ciolfi, Madeline Balaam, Morten Fjeld, Sameer Patil , Sean Munson, Steven Drucker, Tiago Guerreiro, Xinaghua Ding , Yang Li, Youn-Kyungand Zachary O Toups. We thank them for all joining us, we hope they enjoy the event today showcasing work from across Scotland and the world of HCI.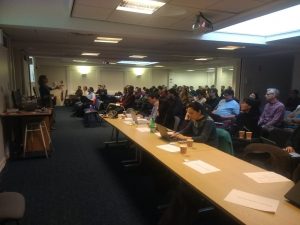 The ACM Conference on Human Factors in Computing Systems (CHI) series of conferences has been held annually since 1982 and in 2019 it will be held in Glasgow. In the field of Human Computer Interaction CHI is our flagship international conference.

SICSA is the Scottish Funding Council Research Pool in Informatics and computer science.  The goal of SICSA is to cohere the Scottish Informatics and Computer Science research communities to help increase critical mass and to enable cooperation in research, teaching and Knowledge Exchange.  SICSA has a well-established HCI theme which a number of members of SACHI have helped lead over the years and this continues to be an important area of work in Scotland.  As digital technologies become more and more pervasive there is a continuing need for a focus on modes of interaction between people and machines.  As the depth and scale of the digitalisation of our societies continues apace we will see the emergence of more complex interactions involving complex assemblies of people, digital technologies and infrastructure where effective interaction is essential to the delivery of essential services in a safe, secure and resilient fashion.