Congratulations to Hui-Shyong Yeo, Aaron Quigley and colleagues, who won best poster at UIST2016.
The Sidetap and Slingshot paper which appears in the Adjunct Proceedings of the 29th Annual Symposium on User Interface Software and Technology (UIST '16) can be accessed via: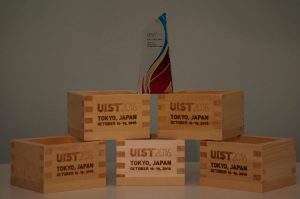 Their paper entitled "Sidetap and Slingshot Gestures on Unmodified Smartwatches", is available through the ACM digital library. It is freely available through the SIGCHI OpenToc page until Oct 2017.