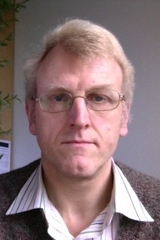 Title:  Recycled Resources and Learning Communities 
Abstract:  The concept of learning communities can be seen as central in higher education, especially. Learning is fostered by dialogue, which is implicated in processes of conceptual development and alignment. These rich and complex phenomena include learning through witnessing the learning experiences of others — "vicarious learning" (VL). We propose that VL can be exploited by using rich media (such as video) to capture and share learning experiences. But the potential of rich media is broad and seems to be curiously under-exploited in education. One can envisage learning communities that create and build around learning resources of diverse kinds, using new materials but also integrating many strands of existing materials. In a number of encouraging ways, the available technologies already support this, but are often not greatly used, which suggests a challenge for design. How can we make these technologies more usable for our learning communities? A couple of exploratory approaches are discussed, including an informal experiment upon which it is hoped to build further.
Biography:  John Lee is Professor of Digital Media at the University of Edinburgh. He holds a PhD in Philosophy and Cognitive Science, from Edinburgh.  He works jointly in the School of Informatics and the Edinburgh College of Art, where he directs the long-standing MSc programme in Design and Digital Media. His research interests centre around cognition and communication in design and learning. For some time, he has been investigating the paradigm of "vicarious learning" and the question of how rich media resources can be used more effectively in applications of learning technologies.