Interactive Technologies for Libraries and Museums
3 presentations on the state of the art
Open to all public
Tue Oct 16 – 1:30pm to 2:30pm
School VI Lecture Theatre, St Salvator's Quad

The Bohemian Bookshelf: Supporting Serendipitous Book Discoveries through Information Visualization
Strolling through a library or a bookstore can be a very rewarding experience especially when we discover intriguing books that we were not looking for initially. However, common digital interfaces for library catalogues are more geared toward targeted search rather than open-ended explorations of books. They require the input of a search term before they display a list of books that match the query. This can be a problematic starting point when we don't exactly know what we are looking for but just want to casually browse through a book collection and be inspired. With the Bohemian Bookshelf our intention was to create a digital parallel to the open-ended "browsing the shelves" experience that has been shown to encourage serendipitous discoveries in libraries or bookstores. The Bohemian Bookshelf consists of five interlinked visualizations, each providing a different perspective on the book collection. The visualizations represent the aesthetic and tangible qualities of books, as well as content data. By providing a variety of perspectives on books, we aim to provide different access points to the collection and to encourage a playful, open-ended yet pleasurable approach to book exploration.
Alice Thudt holds an MSc. in Media informatics. She graduated at the University of Munich (LMU). Her main areas of interest are Information Visualization, Human Computer Interaction and Interaction Design.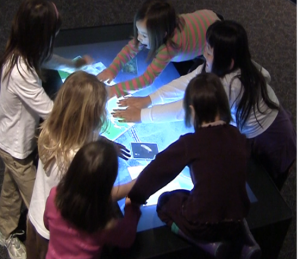 Open-Ended Information Exploration in Exhibition Spaces
Large direct-touch information displays are becoming more common place in public exhibition spaces such as museums and art galleries. The interactive capabilities of such display exhibits, along with their size and form factor offer opportunities to present information to exhibition visitors in an engaging yet informative way. However, the characteristics of exhibition spaces, such as broad and diverse audiences, brief interaction times, and self-guided exploration styles present challenges to the design of such information displays. Considering these challenges, I explore information visualization as a means to support open-ended information explorations and casual discoveries. I present different examples of how artistic approaches to visualization can be combined with direct-touch interaction to promote engaging experiences.
Uta Hinrichs is a Research Fellow at the School of Computer Science (St Andrews), and has an interdisciplinary background in computer science, psychology, political science and design. Uta's research focuses on how to support lightweight and open-ended explorations of information collections, addressing both domain experts as well as everyday people.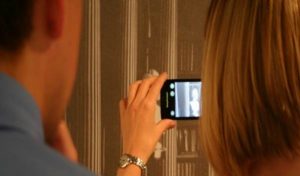 Interactive Technologies at the Museum of the University of St Andrews
Many people assume interactive technologies in museums are for kids and schoolchildren to subvert them into learning. Museum of the University of St Andrews turned four this September and has never limited itself in how it uses interactive technologies. This presentation will explain why museums include interactive technologies, how MUSA is currently adopting interactive technology, where MUSA would like to go through working in partnerships with experts at the University and beyond.
Mark Macleod, is Operations & Projects Curator (maternity cover) in the University's Museum Collections Unit. He interned at the Peggy Guggenheim Collection, Atlanta College of Art and for two years worked in various cultural institutions in St Louis. In Scotland, Mark redeveloped the Falconer Museum and delivered membership development projects at Museums Galleries Scotland.

Organized by School of Computer Science, University Library, and Museum of the University of St Andrews.
Questions? Contact Vicki Cormie (vhc1@st-andrews.ac.uk)
or Miguel Nacenta (mans@st-andrews.ac.uk)