Interaction and Visualisation Technologies in the Library – Open Session
Friday, July 6, 10:00 – 12:00 am
Arts Lecture Theatre (Arts Building, The Scores), St Andrews
Open to all public


Libraries have traditionally been a core component of scholarly activity at research institutions. However, the last few decades have witnessed profound changes in the role of the library, mostly driven by the change in the technologies that we use to access information sources and carry out scholarly work. At the University of St Andrews library, we are committed to keep serving the University's  academic community to support excellence in research and education, and developing this commitment implies being aware of the new technological enhancements that affect access to information and of the needs of researchers and students in St Andrews. These sessions are meant as a vehicle to start a dialogue on some of the technological possibilities in sight for the University Library.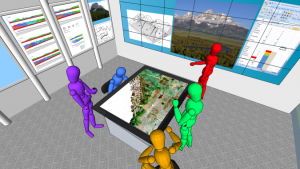 To kick start the discussion we have invited Shawna Sadler, responsible for new technologies for the recently-completed Taylor Family Digital Library in Calgary (http://tfdl.ucalgary.ca/), who will talk about the experiences in helping design and build one of the most technologically advanced academic libraries in North America. We will also have brief talks by several groups in the University involved in inter-disciplinary interactive and data technologies.

Schedule
10:00-10:50      Emerging Technologies and Digital Initiatives at the Taylor Family Digital Library, University of Calgary
Shawna Sadler, Technology Officer for the University of Calgary's new Taylor Family Digital Library.
10:50-11:05      Coffee Break
11:05-11:20      Visualization, public displays and interaction research at the SACHI group
Dr. Miguel Nacenta, SACHI group, School of Computer Science, University of St Andrews
11:20-11:35      The Centre for Geoinformatics at St Andrews: Multi-disciplinary opportunities for collaboration
Carson Farmer, Research Fellow, Centre for Geoinformatics, University of St Andrews
11:35-11:45      The University of St Andrews' current technological outlook
Vicki Cormie, Senior Academic Liaison Librarian (Science & Medicine), University of St Andrews.
11:45-12:00      Open discussion and questions: What are the main needs of the research community regarding technologies in the library? How can the library support excellence in research through new technologies?
Moderator: Vicki Cormie, Senior Academic Liaison Librarian (Science & Medicine), University of St Andrews.
Guest Presenter Abstract and Bio
The Taylor Family Digital Library (TFDL) opened in the fall of 2011 with the vision of being both an innovative Library/Archive/Museum/Press as well the world's most progressive building-wide implementation of technologies dedicated to teaching, learning and research. Shawna Sadler, TFDL Technology Officer, will present an overview of these new technologies and the initiatives underway to further develop opportunities for students and researchers at the University of Calgary. We welcome you to join this presentation to view images and hear about theses initiatives and how students and faculty have responded to them over the past ten months.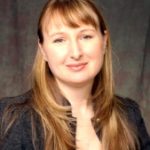 Shawna Sadler is the Technology Officer for the Taylor Family Digital Library construction project, 265,000 square feet, $203 Million dollars where the Library, Museum, Archives and Press converge into one inspirational building with a mandate to support new media in research and innovation.
As well as being the principal project manager for technology implementation, Shawna Sadler also has a background in Digital Librarianship, Institutional Repositories, Digitization, Web Design, Reference and Information Architecture. A Masters Degree in Library and Information Science with a Certificate of Advanced Study in Digital Libraries from Syracuse University, Shawna Sadler remains actively engaged in the technological field of cultural institutions.
How to Get Here?
The Arts building is very close to the main library of the University of St Andrews, in the Scores. To see the actual location go to: http://binged.it/MMBbkA
Comments and questions
For any comments and questions, please refer to Vicki Cormie (vhc1@st-andrews.ac.uk), or Miguel Nacenta (mans@st-andrews.ac.uk).